Network, Phone, WIFI & Security Camera Installation in Arlington, TX
As a telecommunications and data infrastructure installation company with years of experience in the telecom and data world, Politon is your one-stop solution for businesses seeking to enhance their profile and performance in technical environments. For our clients, Politon provides cabling and network services; phone systems installation and repairs; commercial audio/visual services and national rollout services to boost the performance of their business.
Located in the Dallas-Fort Worth Metroplex, we are uniquely positioned in the middle of the country to quickly and efficiently service national customers as well as those based in Arlington, TX and other cities throughout North Texas. We service both stand-alone businesses and nationwide customers, helping business owners resolve their communications and data transmission issues while boosting their performances on the bottom line.
Our relationship with our customers, technicians, and vendors is our primary strength and the secret to our success.
Communications & Data Transmission Services by Politon in Arlington, TX
Among the network infrastructure services we provide to customers include:
Rely on Politon for Your Network Infrastructure Services in Arlington, TX
As a business owner, you need to send clear, concise, and accurate messages to potential customers to maximize your profit margin. That requires reliable cabling and network services, phone systems, and commercial audio/visual services. The pros from Politon provide that for you, along with national rollout services, for customers in Arlington, TX and throughout the Dallas-Fort Worth Metroplex. When you need our services, contact us online or give us a call at 214-441-7173.
Completed Jobs from Arlington
Kimball Midwest
September 1, 2020
This customer wanted to utilize us to install a new IT network throughout there facility. We installed a new IDF in the back of the warehouse with fiber going to an intermediate IDF in the middle of the building. The previous tenant had fiber ran through the warehouse so we were able to move an abandoned fiber cable to the middle IDF and connect back to the main data room. We installed over a dozen WiFi access points through the building, about a dozen pack out station, built out two remote data racks, and the main data room. Assisted the customer by installing all the network switches, SFP's, Battery Backups, routers, and server. The IT dept was unable to fly due to company travel restrictions so we where able to assist in getting the entire facility up and running.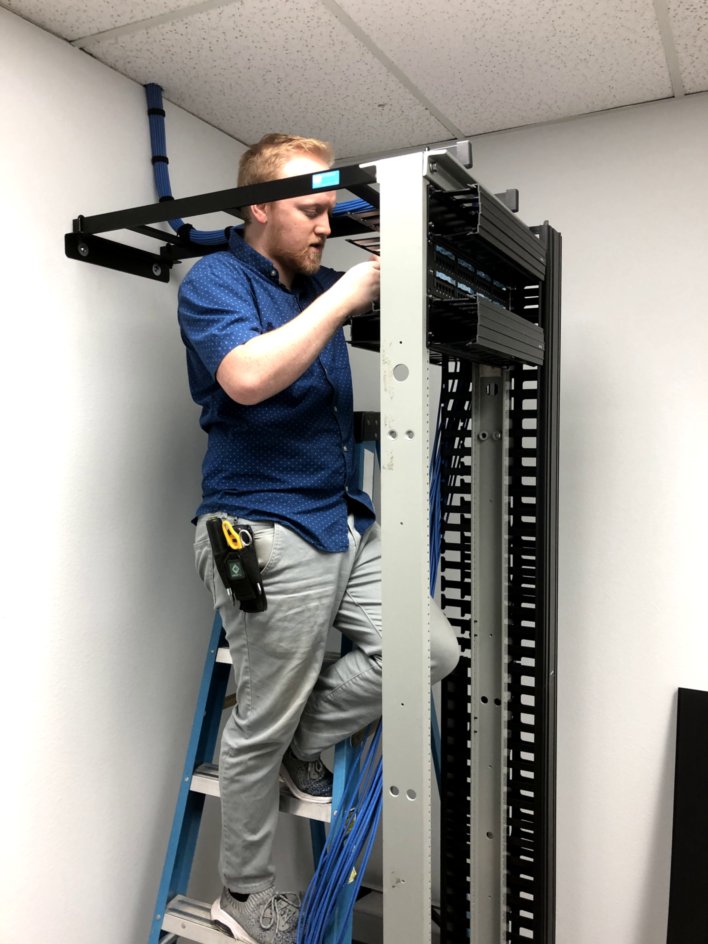 International Solutions Services, LLC.
March 2, 2020
We installed Cat6 data cabling to all of there new offices in Arlington, TX. The customer wanted to reuse there own data rack which posed a few challenges since they did not have all the nuts and bolts so we improvised until we got them. This is usually the case when we have customers reuse equipment they had but we are happy to oblige and make the best of it. We installed ladder racking to the wall and anchored the base of the rack to the concrete so it should never move. The materials we used where Leviton 48 Port Cat 6 patch panels, Leviton Extreme Cat 6 jacks, Leviton 2U front back wire managers and faceplates. We also provided the customer with all the patch cords for the network rack as well as the work station. Another task we performed was a demarc extension for there network circuit which was in a common closet down the hallway. We pulled two Cat6 cables to take care of there current and any future demarc needs to there suite.