McKinney Network Installation, Phone Systems, WIFI, & Security Camera Installation
Cable installation company of North Texas. McKinney specializes in Cat5e, Cat6, & Fiber Optic Cabling in McKinney. The technicians at McKinney have years of experience with Cat6 cable installation in a variety of environments across North Texas including commercial, retail, industrial and educational. Politon is a fiber optic cabling company that can install and repair all types of fiber and connection types. Located just down 380 from McKinney, Politon employees like to visit the historic downtown in McKinney.
Communications & Data Transmission Services by Politon in McKinney, TX
Among the network infrastructure services we provide to customers include:
Rely on Politon for Your Network Infrastructure Services in McKinney, TX
As a business owner, you need to send clear, concise, and accurate messages to potential customers to maximize your profit margin. That requires reliable cabling and network services, phone systems, and commercial audio/visual services. The pros from Peliton provide that for you, along with national rollout services, for customers in McKinney, TX and throughout the Dallas-Fort Worth Metroplex. When you need our services, contact us online or give us a call at 214-441-7173.
Avaya Phone System Repair
McKinney is an authorized Avaya Business Partner with over 20 years experience with the Avaya product line. We try to treat every customer just as we want a service company to treat us. We are in the business of taking care of other businesses, keeping them up and running and repairing them timely when issues arise.
McKinney has experience in installation, maintenance, and phone system repair of many brands of PBX and IP phone systems. Whether you need to upgrade your entire phone system or are just looking to add one phone we are glad to help. As an authorized Avaya business partner we have the expertise and support system to customize and implement your IP phone system. We also service legacy systems such as key systems and PBX systems.
Cat6 Cable Installation Company
Politon has years of experience with Cat6 cable installation. Installation, certification, and repair are the task we perform every day. Please click on our link below to visit our reviews:
About McKinney, TX
McKinney is the county seat of Collin County and home to Collin College. Many people in McKinney work for U.S. defense contractor Raytheon, Encore Wire Corporation, Medical Center of McKinney, Baylor Scott & White Medical Center at McKinney. If you are looking for fun, McKinney has the Dr. Pepper Star Center, an ice skating facility; the McKinney Tennis Center; a historic downtown with many interesting businesses; the McKinney Performing Arts Center in the Historic Collin County Courthouse, and the Oak Hollow Golf Course.
McKinney has no shortage of special events. The Krewe of Barkus dog costume parade, McKinney Oktoberfest, Scare on the Square, Arts in Bloom arts and wine celebration, Bike the Bricks, and a Christmas festival, a car show, and a bridal show, help keep the city connected and entertained
Completed Jobs from McKinney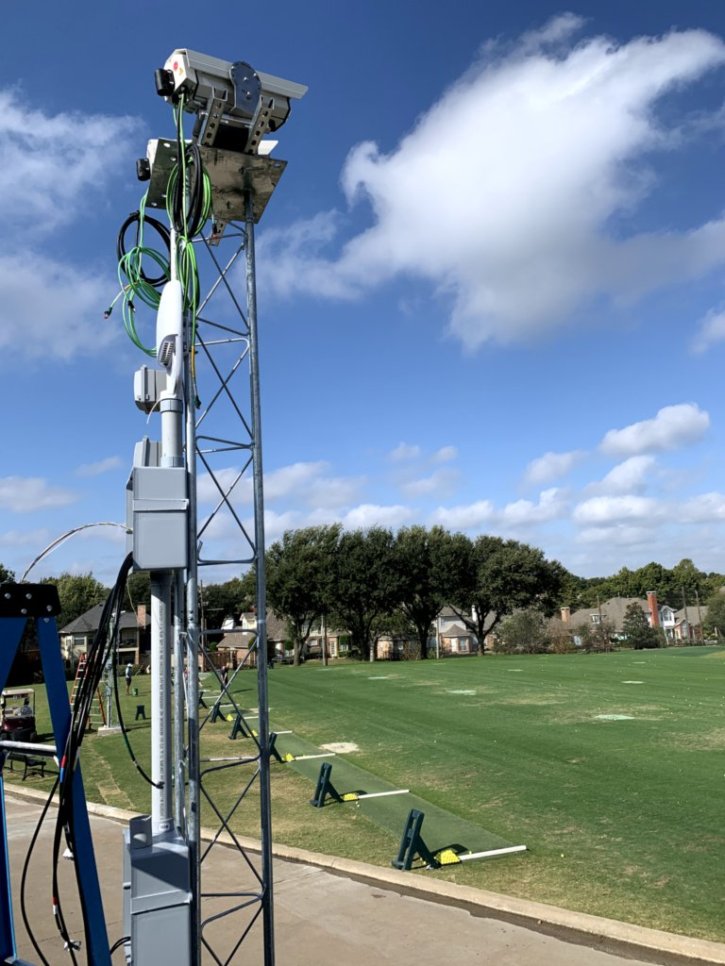 Eldorado Country Club Fiber Repair
October 21, 2020
When arriving on site we discovered that the customer had Singlemode loose tube 12 strand fiber optic cable between their Toptracer camera system and their clubhouse at the Eldorado County Club in McKinney TX. The customer was thinking they had multi-mode 6 strand tight buffer fiber so this caused a problem for us. We needed to come back the next day with a fan-out kit in order to terminate the loose tube fiber. The difference between loose tube fiber and tight buffer is that you can put a connector directly on the end of a tight buffer cable but on loose tube you need to slide the delicate fibers into a support tube or fan-out kit to give the fiber enough support to terminate a connector to. We installed fan out kits on both ends and certified the all the pairs as good. Customer was happy with our work.